What is an Echoecardiography?
Echoecardiography or Echocardiogram, often referred to cardiac echo or simply an echo is an ultrasound or sonogram of the heart. (It is not abbreviated as ECG, which in medicine usually refers to an electrocardiogram.) Echocardiography uses standard two-dimensional, three-dimensional, and Doppler ultrasound to create images of the heart.
Echocardiography uses sound waves to create an image of the beating heart.
Why is it done?
What is done?
How long does it take before the results are back?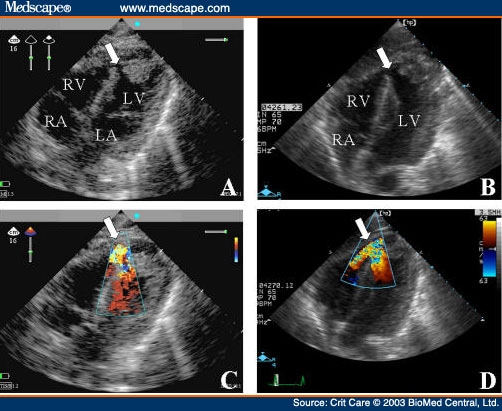 Why is it done?
Echocardiography has become routinely used in the diagnosis, management, and follow-up of Patients with any suspected or known heart diseases. It is one of the most widely used diagnostic tests in cardiology. It can provide a wealth of helpful information, including the size and shape of the heart (internal chamber size quantification), pumping capacity, and the location and extent of any tissue or heart muscle damage. An Echocardiogram can also give physicians other estimates of heart function such as a calculation of the cardiac output, ejection fraction, and diastolic function (how well the heart relaxes).
In Intensive Care, an echo is usually ordered if the Intensive care doctors suspect a problem within the cardiovascular or haemodynamic system. However there may be a more general problem such as Shock.
An echo is able to detect:
Structural abnormalities in the heart including the heart muscle and valves;
Blood flow abnormalities
Cardiac output (volume of blood pumped by the heart)
Volume of blood in the heart.
Abnormal Conditions that can be identified include:
Cardiac Tamponade
Aortic Valve Problems/Abnormalities
Mitral Valve Problems/ Abnormalities
Pericarditis
Cardiogenic Shock
Pulmonary Hypertension
Blood Clots within the Heart
Defects within the Heart Muscle
What is done?
Transthoracic echocardiogram
A standard ultrasound(echocardiogram) is also known as a transthoracic echocardiogram (TTE), or cardiac ultrasound. In this case, the echocardiography transducer (or probe) is placed on the chest wall (or thorax) of the Patient, and images are taken through the chest wall. Your loved one will have several electrodes to record heart rate applied to the chest and connected to the machine. A small amount of electrode gel is used to assist this. The echocardiography machine converts these impulses into a digital image of the moving heart. This is a non-invasive, highly accurate, risk free and quick assessment of the overall health of the heart.
Transesophageal echocardiogram(TOE/TEE)
This is an alternative way to perform an echocardiogram and it is a more invasive examination. A specialized probe that is in a long and flexible tube, containing an ultrasound transducer at its tip is passed into the Patient's esophagus. This allows image and Doppler evaluation from a location directly behind the heart. This is known as a transœsophageal echocardiogram, or TOE (TEE in the United States). Transesophageal echocardiograms are most often utilized when transthoracic images are suboptimal and when a more clear and precise image is needed for assessment. This test is performed in the presence of a cardiologist, registered nurse, and ultrasound technician. Light sedation and/or localized numbing medication, may or may not be used in order to make your loved one more comfortable during the procedure.
What are the risks?
There are generally no risks to your loved one when undergoing trans thoracic echocardiography (TTE). A transosephageal echo (TOE) carries a minor risk as a light anaesthetic is given. This will be explained further by the doctor performing the test.
How long before the results are back?
Some Intensive Care doctors are also trained in echocardiography and will be able to interpret the echocardiogram immediately in emergency situations. If the situation is not an emergency the results will be available within a number of hours. The results will be discussed with you if there are significant problems.
Any Questions?
Of course, if you have any questions or concerns, please discuss them with the ICU nurses and doctors
All Intensive Care interventions and procedures carry a degree of potential risk even when performed by skilled and experienced staff. Please discuss these issues with the medical and nursing staff who are caring for your loved one.
The information contained on this page is general in nature and therefore cannot reflect individual patient variation. It is meant as a back up to specific information which will be discussed with you by the Doctors and Nurses caring for your loved one. INTENSIVE CARE HOTLINE attests to the accuracy of the information contained here BUT takes no responsibility for how it may apply to an individual Patient. Please refer to the full disclaimer.
Related articles: